WE CAN BE YOUR PARTNER IN
Cardiovascular imaging and AI-enabled cardiac image processing
Benefit from state-of-the art custom software solutions and the power of AI to fight heart disease.
We'll assist you in research and software development.
Driving innovation across cardiology
At Graylight Imaging we bring expertise in both technology and medicine to create custom cutting-edge image analysis software for cardiology. We have successfully handled a number of cardiac projects and powered cardiological applications with state-of-the-art solutions.
AI in cardiac
AI algorithms are a great way to improve medical decision-making and diagnostic abilities through automated cardiac image analysis. You can advance your pathway from AI-enabled image reconstruction to segmentation and precise, patient-specific measurement in various cardiac imaging modalities.
Post processing technology for cardiac imaging
Discover advanced post-processing techniques and tools and dive into the myriad of data embedded in cardiovascular images. AI-enabled cardiac image processing can transform patient care at every stage of the imaging chain. Machine learning and Deep learning methods offer the extraction of new, clinically relevant information for patient and risk assessment.
SELECTED WORK –  HOW WE PERFORMED IN THE PREVIOUS PROJECTS
Development of cardiac imaging solutions
AI algorithms for accurate segmentation of coronary vessels for cardiovascular imaging
Interactive graphics – rotate, zoom in, zoom out.
Our models for automatic segmentation of coronary arteries reconstruct the coronary artery tree with an accuracy of more than 90% (Sørensen-Dice coefficient of about 0.9).
Accurate segmentation of the cardiovascular area allows to create a personalized treatment plan for each patient, taking into account their unique anatomy and tumor location. This enables to deliver a more precise and effective treatment, while minimizing damage to surrounding healthy tissue.
Our algorithms have also found application in cardiology. In the case of cardiovascular lesions, accurate image segmentation enables more effective diagnosis and treatment planning.
Creating technology for the automatic coronary artery segmentation was one of the biggest challenges. Due to several factors, for instance: the complicated shape of coronary arteries; patient variability in terms of coronary arteries, particularly in cases of anomalies.
Despite this difficulty, we have developed a technique for creating artificial intelligence algorithms for precise coronary artery segmentation.
Interactive graphics – rotate, zoom in, zoom out.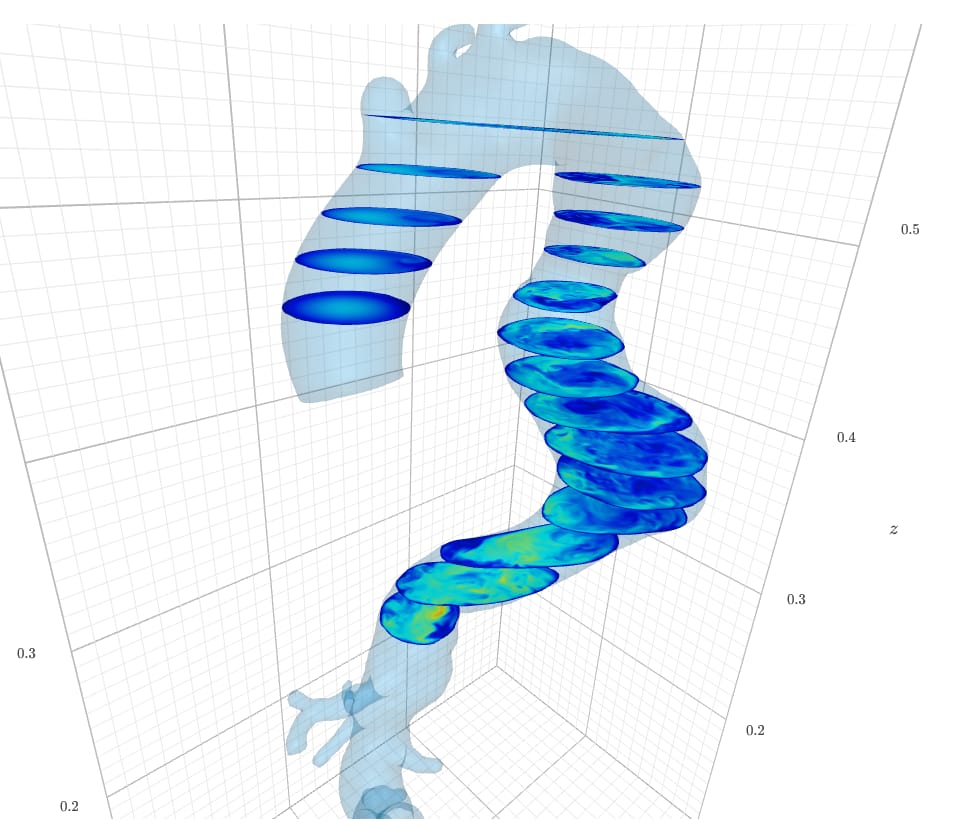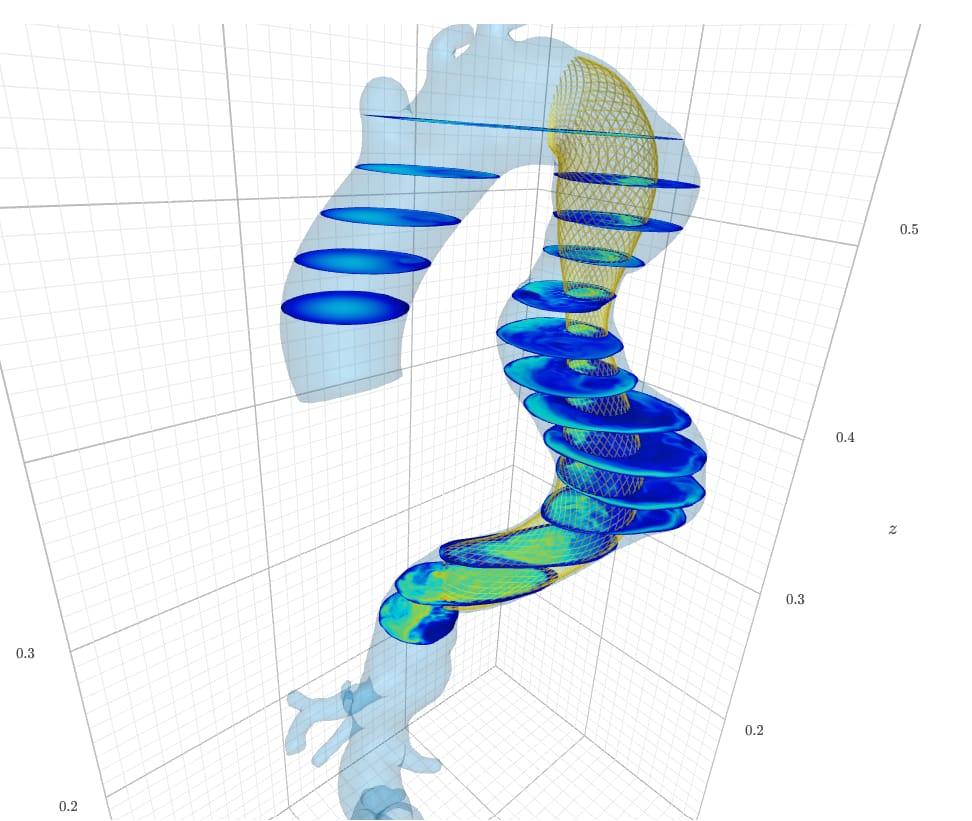 Computational fluid simulation (CFD) of flow in aortic aneurism before and after stenting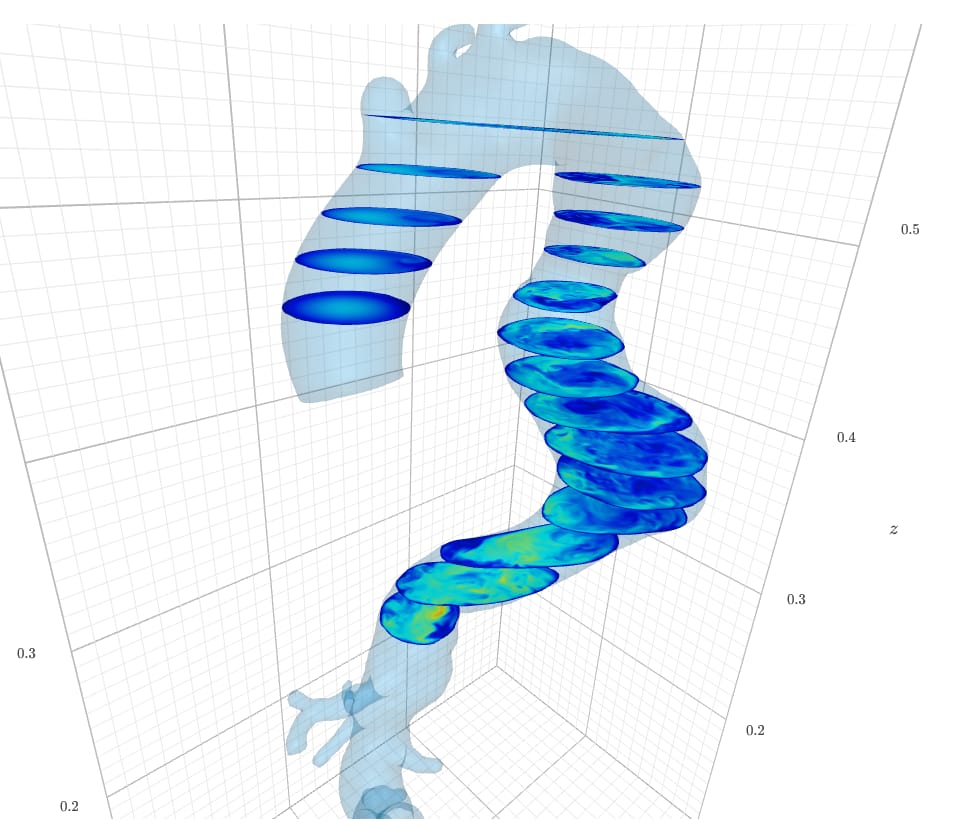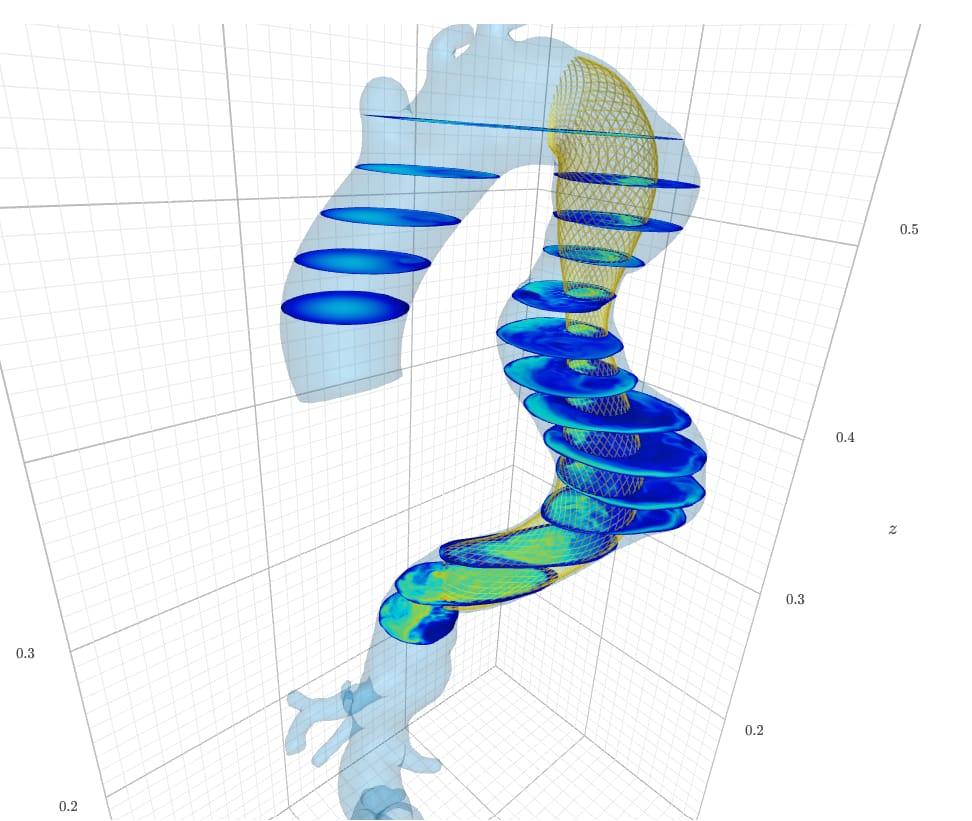 Not only tools for non-invasive assessment of cardiovascular conditions may benefit from the newest technology and cardiovascular imaging analysis.
Advanced techniques and analysis solutions for cardiovascular imaging might be applied for interventional cardiology purposes as well.
In interventional cardiology, artificial intelligence and biofluid simulation methods have shown the potential in providing data interpretation and automated analysis, as you may see in the graphic.
During the project, based on the CT scans we provided a fully automated, patient-specific blood flow simulation before and after the stenting procedure.
Analysis solutions for cardiovascular imaging and coronary artery calcification
Interactive graphics – rotate, zoom in, zoom out.
The amount of calcified (hard) plaque in your heart vessels can be determined quickly, conveniently, and noninvasively with a cardiac calcium score computed tomography (CT), also known as a coronary calcium scan.
In one of our projects, we faced the challenge of developing an algorithm that not only segments the plaques and calculates the Agatson score, but also assigns calcified plaques to the appropriate part of the cardiovascular tree.
End-to-end automation of this process was key, as was precision – the goal was to be accurate to within 1 voxel.
The result is presented in the graphic (different colors of plaques are assigned to the corresponding part of the vascular tree).
Interactive graphics – rotate, zoom in, zoom out.
AI assessment in cardio imaging with using centerline-based coronary vessels segmentation
Through years of developing solutions to effectively support the diagnosis and monitoring of coronary artery disease, we have developed a comprehensive deep learning-based pipeline for automated analysis of coronary computed tomography angiography using computational fluid dynamics (CFD).
In addition, we now use centerline-based segmentation rather than fully manual segmentation. As a result, we are able to get blood flow metrics that are in great agreement with those created for ground-truth delineation.
A centerline is a line that connects two points and runs through the middle of the model. They shed a lot of light on its topology. As a result, we are able to determine the diameter of the vessel at each point along the centerline.
We can claim that such a solution performs better than cutting-edge nnU-Nets.
OUR SOLUTIONS
Proven experience in cardiovascular imaging field
Cutting edge technologies for cardiac imaging and analysis
At Graylight Imaging, we thrive on innovation and we're ready to team up with you to fight the leading killer in the modern era: heart disease. We can integrate clinical and technological knowledge to boost your solution by leveraging multiple advanced image processing methods and techniques as well as analysis solutions for cardiovascular imaging. Check one of our latest papers.
Please contact us if you have any questions about our services for cardiovascular imaging projects.
We'd love to discuss your needs, ideas or challenges.